The International company Nestle had one of a case in Social Medias in 2010, and their strategy is an example of a bad communication that unleashed a corporate crisis. It all begun on march 17 when Greenpeace published are article about Nestle and the use of Palm Oil from Indonesia to elaborate their products and their supplier "Sinar Mas" breaking the Indonesian laws by deforesting and destroying the rainforests, the natural habitat of orangutans, a protected species.
Nestle answered denying the accusations saying that their supplier was the company Cargill. The ecologist replied that Cargill work with Sin Mas, and launched a campaign in Youtube, Facebook and Twitter with commercials related with the brand Kit Kat (see video on Youtube) and inviting the audience to use the word "killer" instead. The real problem began the next day, when the company convinced Youtube to withdraw the video saying that it was a bad use of the brand and published in their Facebook page telling the fans that any improper use of the brand will be cause of deleting the post.
The fans didn´t like to be censored by Nestle, that instead of attending the follower´s complains and questions told them that they were the only owners of the brand and the Facebook site, and were the only ones to fix the rules of participation and if someone did not like were free to leave. This attitude generated a global attack to the Swiss company in all the Social Networking Medias and in their Facebook site (in the pick, more than 1 post per minute). Finally Nestle recognized the mistake and told the fans that the posts were not going to be eliminated, no matter what they said, but the damage was maid! What happened? Nestle did not realize that the public decides to be a fan of a company or brand, and they participate if the content is interesting or helpful. The mistake was to disrespect the audience saying that the place did not belong to them, censuring their participation.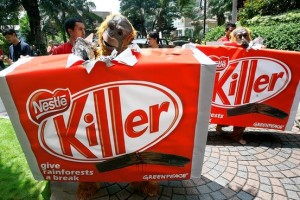 Fans reject Corporate Announcements and want to be treated in a personal and human way by the companies. Maybe the accusation of Greenpeace was wrong, but at the end the fans of Nestle weren't worried about that, they wanted to participate in a place they thought were part of.
Resources:
Greenpeace Blog (2010, March). Climate Rescue weblog. Retrieved September 20 from http://weblog.greenpeace.org
Owyang, Jeremiah (2010, March). Crisis Planning: Prepare Your Company For Social Media Attack. Retrieved September 20 from http://www.web-strategist.com
Fox, Elliot, (2010, March). Nestlé hit by Facebook "anti-social" media surge. The Guardian. Retrieved September 20, 2011 from http://www.guardian.co.uk